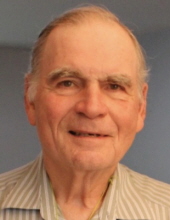 Obituary for Donald "Don" L. Dillon
Donald "Don" Lee Dillon, age 85, died March 3, 2018, with Shirley, his wife of 63 years, at his side. He was a devoted and loving husband, father, father-in-law, grandfather and great-grandfather. He was a steadfast and nurturing man who will be remembered for his great intellect, quick wit and delightful laugh.

Don was born May 22, 1932 in Chicago, IL, one of six children of the late Mary Louise (Koeberlein) Dillon and Maurice Anthony Dillon. He spent his childhood in St. Louis, MO, before moving to Leasburg in 1946; he graduated from Bourbon High School in 1950. He joined the National Guard and served for 12 years. In 1954, he married Shirley Ann Land; they had six children: Gary Charles, Donna Lee, Janet Elaine, Jeffrey Paul, Karen Sue, and Glenn Haley. He was always grateful that his work was in his hometown, which allowed for more time and games with all his children. He set a fine example of living life to the fullest, whether at work or play.

Don purchased the Roedemeier Garage from his employer, Oscar Roedemeier, and operated this garage as Dillon Auto Repair continuously since 1963. He was a AAA road service contractor for forty-three years, twenty-four hours a day, and declined additional contracts. He was advised that it was easier to sell the road service insurance in this area because of Don's reliability. Like the mailman, "nothing stopped him from making the rounds." He kept his own vehicles in excellent shape, so Shirley would always recite this, as one always heard: "the shoe cobbler's kids may go without shoes but our cars were ready to go."

In his earlier years, Don loved to horseback ride, to fish from his bass boat or from a canoe with friends, to hunt, and to target shoot. In recent years he has been an ardent bicyclist. He and Shirley have ridden the Katy Trail across the state both ways, have taken their bikes out of state for many rides in Colorado, and have ridden in several other states. He loved studying the behavior of the birds, and they could depend on him to fill the feeders with the many gifts of bird food from his family. Don loved to travel; he and Shirley visited all fifty of the United States, and they took the family on many vacations where they visited the national parks, capitals, museums and many interesting sites, hiked trails, and looked for ice cream or popcorn treats each day. His favorite place to visit was Colorado.

Don is survived by his loving wife, Shirley, their children and spouses, Gary Charles and Diane (King) Dillon; Donna Lee Dillon and husband Michael Thibodeau; Janet Elaine Dillon; Jeffrey Paul and Debra (Meiller) Dillon; Karen Sue Dillon and husband David Eckhard; and Glenn Haley and Dawn (Krehbiel) Dillon; grandchildren and spouses, Rebecca (Dillon) and Greg Hutchison; Luke, Benjamin, Haley (Dillon), and Mike Steffen; Mark; Lauren and Erin Thibodeau; and Helen Eckhard; great grandchildren, Gabriel and Abigail Hutchison; and Benjamin Steffen; sister, Shirley Gene (Dillon) Ertl; brothers and spouses, Michael and Barbara (Robinson) Dillon and David Dillon; nieces, nephews, and their children; and many friends. He was preceded in death by his parents and two sisters, Agnes Ellen Dillon and Carolyn (Dillon) Lockowitz.

Memorial Visitation will be held from 1:00 PM - 3:00 PM, Saturday, March 24, 2018 at the Eaton Funeral Home in Sullivan & Memorial Services will begin at 3:00 PM with Pastor Ed Carter as the officiant.

In lieu of flowers, memorial contributions may be made to the (BEC) Bourbon Ecumenical Corp (aka Bourbon Food Pantry) of Bourbon, MO.

Arrangements are under the care of Eaton Funeral Home of Bourbon and Sullivan.
Previous Events
Visitation
Eaton Funeral Home
347 N. Clark
P.O. Box 625
Sullivan, MO 63080
Service
Eaton Funeral Home
347 N. Clark
P.O. Box 625
Sullivan, MO 63080
Memorial Contribution